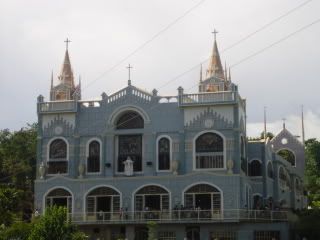 No place is too far to visit for a miracle. People whose only hope to cure their sickness is miracle, are always in search for instruments of God's miraculous grace.
I first heard about this place from my gay friends who spend Thursday and Friday of the Holy Week in Simala saying, this is the best venue where they can repent their sins. From what they were telling me, on the way to the shrine itself are stamps reflecting the 14 Stations of the Cross. Then it concludes to a small chapel built on a hill where Mama Mary's icon is mounted. But this is just the simplest way my gay friends can describe the place.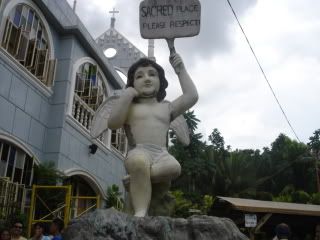 The shrine is located in Upper Lindogon, Simala, Sibonga Cebu. Sibonga is a 3rd class municipality in the province of Cebu, Philippines. According to the 2000 census, it has a population of 38,281 people in 7,497 households. Simala, being one of the 25 barangays in Sibonga according to the national census made in 2001, has a population of 399 inhabitants (Simalesi). The territory of the municipality lies between 102 and 294 metres above sea level.
Driving to Simala shrine by private car from Cebu City takes about two to three hours, barring heavy traffic in the outlying towns. Public buses ply the south Cebu route but one would have to get off a corner of the national road to reach upper Lindogon and hail a motorcab or a habal-habal (motorcycle-for-hire) for P20 to take you to the shrine about four kilometers up the mountains.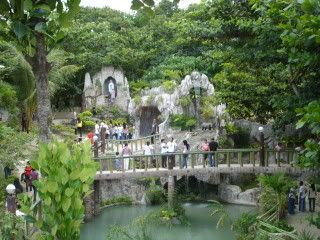 The shrine became "famous" after word spread that the image of the Virgin Mary was
seen "shedding tears of blood," a phenomenon that lacks scientific or official church validation but nevertheless draws more people to the area. The Marian monks who maintain the shrine have also landscaped the area, which has a mini falls that cascades down a small pool and well-tended gardens. Signboards warn people that picking the flowers would be like "stealing from Mother Mary". Families can have picnics and meals in cottages built for visitors. Children like to throw coins in a wishing well which features a large bell. Those who grumble about the distance are quickly shamed by the sight of elderly men and women on wheelchairs and crutches who go there to hear Mass and line up to kiss the image of Mary. These senior citizens don veils on their heads while praying, the same one Mary wore when she "shed tears of blood."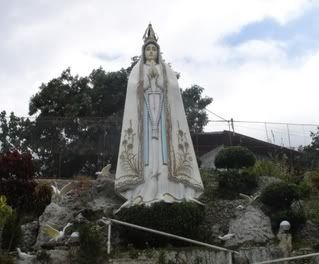 A major purpose of visitors and devotees who go to Simala is to offer their petitions. Blank sheets of paper and pens on which to write their intentions are prepared by the monks for one to drop in a box at the right side of the glass-encased Marian image. Thank you letters are dropped in a box to her left side. Visitors in lone queues walk barefoot to the statue. Since the area is considered sacred ground, shoes and footwear have to be removed and modesty is part of the dress code. Wearing of shorts, body-hugging blouses or sleeveless shirts is not allowed. Visitors who come dressed in this attire are asked to cover up with sarongs or malongs, prepared by the monks at the entrance. The path leading to the statue is lined with wooden cabinets where written petitions and thank you letters from as far as the United States and other countries are posted. Most petitions ask for a divine cure for ailments of the seeker or a family member's. Several petitions were made by students seeking to pass the Bar or board examinations. Others seek help in finding jobs abroad. In another cabinet, thank you letters are laid out, full of gratitude to Mary for answered prayers. While waiting for the line to move, reading the letters is an engaging past time. One woman sent a package containing her nursing uniform, her offering of thanks to Mary for passing the nursing licensure examination. Further on is a cabinet crammed with wheelchairs and crutches offered by those who were cured of their ailments.
Each year, the crowd of devotees and first-time pilgrims seems to grow bigger, bringing their faith and petitions for cures and other divine aid. Definitely, there is no place that is too far to visit for a miracle.